Event Vendor Recruitment & Sponsorship Sales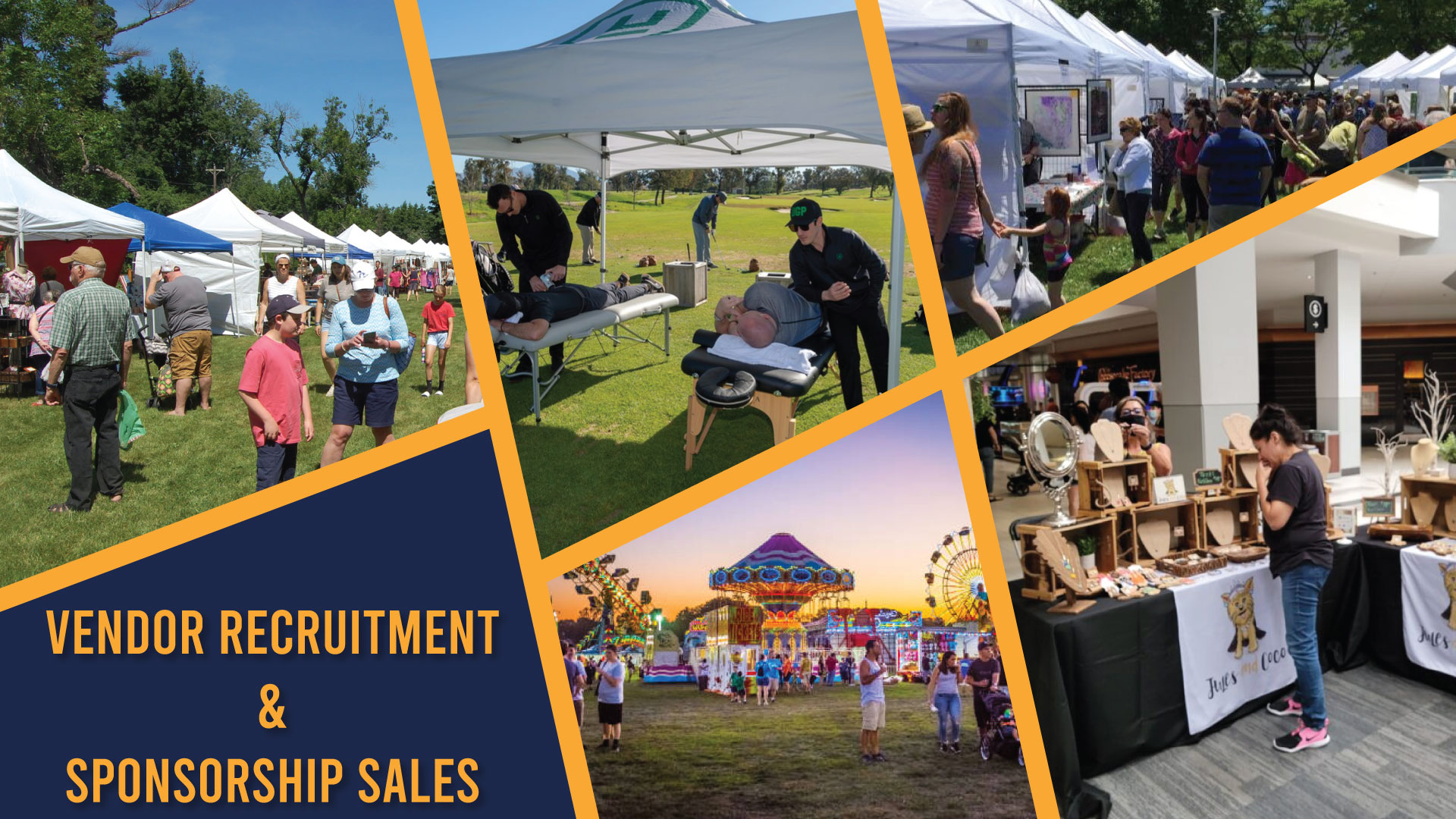 Looking to add additional revenue to your event? Need help finding vendors and sponsors? We are here to help! Our team has worked with over 4,000 small businesses that are looking for vendor and sponsorship opportunities.
County Fairs
Church Festivals
State Fairs
Minor League Sports Teams
Craft Fairs
Youth Sports Tournaments
Dance Competitions
Cheer Competitions
Tournaments
Golf Tournaments
Expos
Civic Events
Conventions
School Functions
Private Events
Holiday Celebrations
Air Shows
Boat Shows
Art Festivals
Ethnic Festivals
Race Events
marketing materials. If you do not have these items, we can help you create them if need be.

 

We promote your opportunities for your event to local small businesses via our email and social media campaigns.

Vendors register to participate in your event or become a sponsor through our website.

 

A minimum of 10 days prior to your event, we supply you with a vendor roster of the vendors we have secured to participate along with any certificates of insurance and any payment due for vendor registrations or sponsorships.

We help promote your event on our website along with a social media campaign beginning 10 days prior to the event.
The great part of our program is there is no risk for you. We only get paid for vendors or sponsorships we secure for you

For each vendor or sponsor we secure, we get paid 30% commission off of your vendor registration or sponsorship fee (minimum commission of $50).
We work with all types of small businesses including crafters, hand-made jewelry, retail, local service providers including insurance agents, restaurants, and more!

We will avoid any type of businesses that you wish to exclude to participate in your event. We will also ensure that there are no conflicts of interest.
All we need from you is a list of  vendor and sponsorship opportunities & prices, any marketing materials for your event, and any vendor or sponsor requirements.

We supply insurance for any of the vendors participating that we recruit.
You definitely should! Adding small business vendors to your events not only provides additional revenue but also shows good support of the small business community. Should you not have vendor opportunities already in place we can create marketing materials, set prices, and even help manage the vendors on the day of your event. This not only provides you with additional marketing for your event but also provides you with an extra $1000 or more. Our team would be happy to facilitate your vendor zone within your event.
No problem, we can definitely help you with all your marketing needs for your event, including ticket sales, social media campaigns, and over all event awareness and PR.
Have additional questions? Email : eventsteam@theshoppersmarket.com